Disruptor of Data Visualization Software Market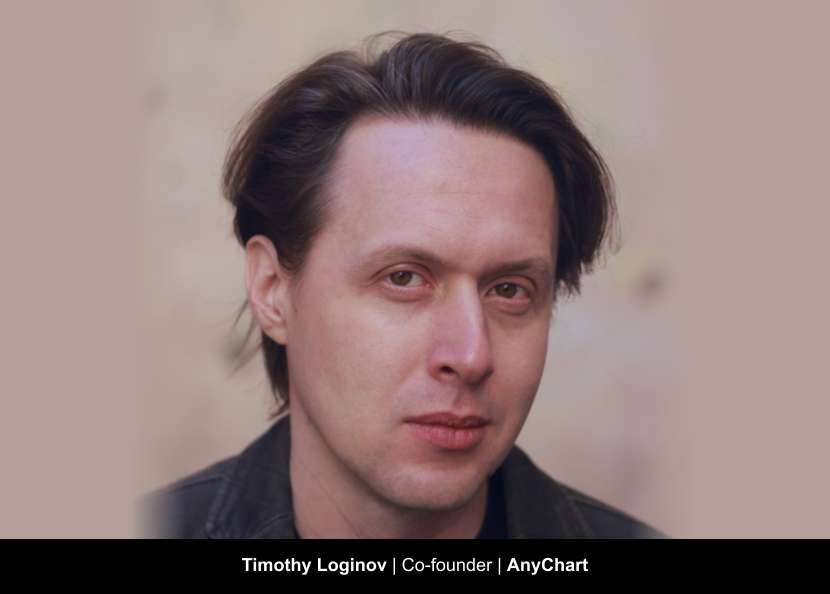 Data is everywhere and in large amounts, so it's getting harder and harder to analyze it quickly and efficiently. Moreover, humans perceive graphics better than raw digits or spreadsheets. That's where data visualization enters the stage. A global leader in data visualization is AnyChart – a US based graphics software development firm providing more than 70% of Fortune 1000 companies and over half of the top 1,000 software vendors worldwide with cross- platform interactive data visualization solutions such as JavaScript charting libraries AnyChart, AnyStock, AnyMap, and AnyGantt. Co-founded by Timothy Loginov, the company makes dataviz really convenient and accessible, bringing unique ideas and disruptive approach into the global market for 16 years now.
Idea and Success
AnyChart was founded in 2003. At that time, Timothy Loginov and team were thinking about an idea of making a universal, versatile interactive data visualization tool to help web developers and data engineers visualize any data in any charts. "I mean, if you have a certain data set and a certain task of what to look for or focus on in it, you can make a chart using one or another solution quite easily. But what if the conditions are not that favorable? For example, if you are working on an enterprise reporting system, you may well have to deal with diverse types and sources of data, not to mention a variety of specific questions that the analysts may need data to answer," explains Timothy. So, they decided to create such a "one-fits-all" charting tool, like a "Swiss knife" for interactive data visualization. Sixteen years ago, when they started, was the time when Adobe Flash was everywhere and XML had already begun to gain popularity. That's where they recognized an opportunity as typically you could extract data in XML from literally any source and then visualize it as a Flash chart. "We succeeded to earn the first big corporate clients quite shortly, and this actually gave us a great push forward," recalls Loginov. When it became clear and inevitable that Flash would not be universally supported and at the time of the increasing popularity of iOS devices, AnyChart began to shift to HTML5, added an SVG- based, HTML5 version of their components, and launched their own JavaScript charting libraries. "Nowadays, we keep supporting our Flash solutions as some companies still use it, although the overwhelming majority of our customers have already shifted to HTML5 data visualization with AnyChart JS Charts," he says.
When Hard Work Is Paid Off
The very first big moment when the AnyChart team realized the hard work started to bring fruits was the time of getting the first big customers. One of them was Oracle — they integrated AnyChart into APEX, a very popular web app development tool used by many thousands of developers worldwide. "That proved our idea in practice, showing AnyChart is a great fit for enterprises' data visualization needs. Thanks to a partnership with Oracle, we also received huge amounts of use cases and feedback from developers, which greatly helped us in improving the product, technical support, and business in general," shares Timothy Loginov. Today, thousands of companies and organizations from startups to enterprises to universities and NGOs use their charting solutions to power data analytics and business intelligence systems with the right data visualization. AnyChart's clientele includes giants like Volkswagen, Samsung, BP, ExxonMobil, General Electric, AT&T, Microsoft, Bosch, Orange, Ford, Bank of China, JPMorgan, Citi, Lockheed Martin, California State University, Greater Manchester Police, Women's Health America, and many more. AnyChart's data visualization software solutions have been recognized by IT experts worldwide and even have won several awards. For example: In 2018, AnyChart received a prestigious DEVIES Award for the best in JS tech at the largest developer tech event, DeveloperWeek in California.
Global Data Visualization Market Leader
Today, AnyChart is leading the segment of interactive data visualization software, offering flexible JavaScript charts libraries with plugins and integration templates for numerous technology stacks. The libraries seamlessly work with any platform, any technology, and any database:
AnyChart is a JavaScript library for making interactive charts of the most common basic dataviz types;
AnyStock is for date/time visualizations like financial and stock charts;
AnyGantt is helpful in product management, designed for building Gantt, resource, and PERT charts;
AnyMap allows you to create interactive JS maps, including geographic and seat maps.
These four JS libraries are their core products, and the company markets them as different solutions composing the AnyChart JS Charts product family, but basically, it is a single powerful JavaScript (HTML5) data visualization library: "You can use it to visualize any data, out of any source, in any chart type, making use of any technology stack, and easily embed dataviz in any project, whether it's web, mobile, or desktop," explains Timothy Loginov.
Market Differentiators – Advantages for Web Developers
AnyChart offers a lot of ways and options to work with data: JS API, JSON, XML, CSV, Google Spreadsheets, HTML tables. They have a dedicated data adapter, data mapping, etc. The company's JavaScript charts do not depend on any particular platform, browser (IE6+), database, or technology framework, as they are designed to be embedded, integrated, and look good in any project and environment. AnyChart's JavaScript charting library is very flexible and provides out of the box many dozens of chart types (from bar, pie, and line charts to gauges, sparklines, and maps to 3D surface, stock, and Gantt charts), fine-tuned solutions for visual design like pre-built themes and color palettes, vast interactivity and custom drawing options, annotations and technical indicators, powerful export and sharing engine, smart localization, full accessibility (Section 508), and so on. Everything in AnyChart can be customized. Moreover, the full source of AnyChart is opened on GitHub. For graphics rendering, they use their own graphics engine released to public several years ago as GraphicsJS, a powerful free open-source JavaScript library for drawing any graphics and animation, based on SVG (VML in older browsers). To make things easier for web developers, AnyChart has comprehensive and detailed API reference and documentation, thousands of data visualization demo samples that can be played with on the AnyChart Playground, dozens of integration samples for all major stacks, as well as a prompt, enterprise-grade technical support.
Advice for Future Tech Leaders
When asked about the best piece of advice he ever received and giving an advice to aspiring tech entrepreneurs, AnyChart's Co-founder is careful: "Advice is a delicate thing. I mean, it's always good to receive a piece of advice. But I believe you'd better not take every one of them as is, without any doubts that it will work for you in your situation. In fact, nobody knows your life, your business, and your aspirations better than you," emphasizes Timothy Loginov, and adds: "So at all times, I am pleased to get advice and absolutely thankful to the people doing that. But I also do my best to consider each advice critically, analyzing whether it's a good fit in my current circumstances or not. And exactly in these terms, I really like one I read many years ago somewhere and I can give the readers the same — never listen to any advice, not even this one."
Bringing New and Better to the World
Growing up, Timothy always wanted to bring something new and better to the world. Leading a disrupting company, today, he is glad to be able to do that as a tech entrepreneur. "When customers tell us they are happy to use our solution as it saves them time and effort in creating visualizations and making faster and better data-driven decisions, which indeed happens often, that is precious and inspires me and all of us to work even more," Timothy says.
Already at the top in the industry, Timothy Loginov envisions AnyChart to further strengthen leadership in the global data visualization software market.