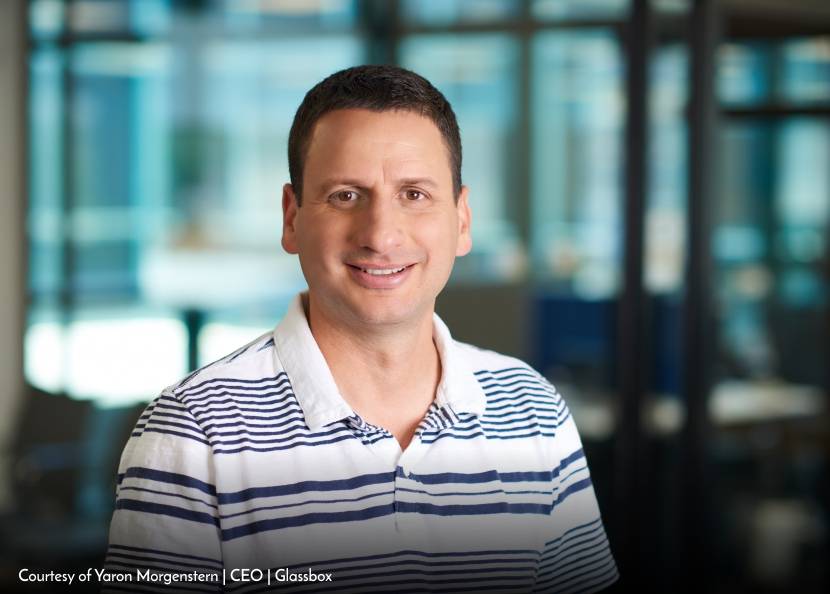 Delivering Data Intelligence backed by Session Replay
Big Data, AI, Machine Learning are some of the latest technological buzzwords that have been spreading like wildfire in the business world owing to their massive potential. Organizations across different sectors are leveraging these technologies to turn data into actionable insights.
Incepting in the heart of Israel, back in 2010, Glassbox has made use of these capabilities to help enterprises gain a deep understanding of their online customers by identifying what is happening with their digital channels and why is it crucial.
Websites of enterprises and mobile applications are often almost like the black hole; no one is aware of what's happening inside them; why are people struggling to complete transactions, why are they abandoning sessions, and so on. Glassbox brings-in clarity and transparency to the digital customer journey.
Shaping the idea
Initially, the vision for Glassbox was actually anchored in Digital Compliance, and not in Customer Experience or UX. Back in 2010, the founders of the company had a very clear understanding concerning how the customer journeys will become increasingly digitalized and personalized. The founders, Yoav Schreiber, Yaron Gueta and Hanan Blumstein, believed that just like how regulation had made it mandatory for call centers to record calls in many industries, the same would apply to digital channels as well.
Enterprises, especially in data-sensitive environments, like the finance industry, would need to keep evidential records of digital sessions, both on the web and on mobile applications. And they would not only need to keep these records at scale, they would also need to retrieve them easily and share them internally and externally in a way that could be consumed by business people. This was the idea behind 100% accurate session replay. Capturing 100% of the data with a solution that is easy to deploy and maintain was key, as websites and mobile apps keep on being updated. Thus, the solution needed to be able to keep collecting the data, no matter what.
Solving challenges of enterprises
The initial vision of Glassbox holds true even today, and the fact that we started from compliance made us take a 'capture everything in real time' approach that now days allows us to address many use cases and needs around the Digital Customer Management (CX improvement, Compliance, Production support, Fraud, etc.) in a unique way.
Along the way, the company has expanded its range of services. It helps solve various challenges of enterprises, including Digital Customer Experience Management (CEM), Conversion Rate Optimization (CRO), IT Production Support, and many more.
"Today most of our focus is on generating Automatic Insights based on the data our customers collect: our clients are expecting us to tell them in real-time what's going on with their digital channels: what are the main struggles people are experiencing both on web and mobile apps, what is impacting their business the most in terms of revenue loss, etc.," mentions the CEO of Glassbox, Yaron Morgenstern.
To cater to this customer demand, over the last 12 months, Glassbox has added deep AI and Machine Learning capabilities to its platform. This is done, so as to ensure that the company learns by itself what normal data behavior looks like and can set up thresholds and alerts automatically, with no need for users to configure anything in the system.
Providing unparalleled benefits
Today, we are all familiar with buzzwords like Digital Economy or Uber Economy. The underlying disruption such technologies has enabled is that when you ask millennials, they have an inclination of preference towards access instead of ownership. Access to car rather than owning a car or access to real estate rather than buying a house. "I think the same phenomena is happening within Enterprises, with regards to data," claims Yaron.
Organizations are starting to realize that they can enable the entire workforce to access data in a very friendly manner. Data doesn't need to be owned by IT departments anymore. This is exactly what Glassbox allows them to do. Its use case goes beyond just improving the online customer experience.
"We see the usage of Glassbox expanding inside organizations for very different use cases, from Compliance to Customer Care via Production Support.  All departments are using our data in the form of session replays and understand why are people struggling online. When everybody sees the same picture, cooperation is easier, siloes are breaking down and agility is increased. Most of our competitors can't live up to this promise."
Another benefit that Glassbox provides to its customers is the convergence of web and mobile. As a consumer, we don't operate in siloes; at one moment we are searching our smartphone devices, the next we are buying a product or a service from our laptop or tablet. Glassbox is leading the pack when it comes to having a combined solution that supports both channels on a single platform.
Leading by example
Being the CEO of the company, Yaron brings a lot to the company and to its productivity level. One of his key attributes is defining a crystal clear and powerful strategy, and he makes sure that it is communicated to the entire company.
Going beyond the startup nation
Apart from several VC's who are backing the company, Glassbox benefits from the Israeli startup ecosystem and an extraordinary pool of R&D talent. The great level of innovation especially in the areas of Machine Learning and AI ensures Glassbox is always at the forefront of innovation. "I'd say that our main advantage is probably that Israel holds some of the world's best creative minds and developers. We're very proud that all our R&D team is based out of Israel," asserts Co-founder and CTO, Yaron Gueta.
The sky is the limit
2017 was a breakthrough year for Glassbox as the company went on to close massive deals with world famous companies and brands and tripled its revenues. But Yaron and his colleagues know that there is still a long way to go in the future. "As we like to say at Glassbox: The reward for good work is… more work!"
This year, the company is on track to triple its revenues once again. Glassbox is expected to keep growing at a rapid pace as it sets more and more aggressive targets to achieve. "We're already working with the top 3 US Banks and expanding into many other verticals such as Insurance, Travel, Telecommunication, Retail, Etc."
From the company's perspective, the sky is the limit for Glassbox.
The latest breakthrough that strengthens the market position
Glassbox on 4th Oct, 2018 announced the closing of a $25 million round of financing led by Updata Partners, a leading software-focused growth equity firm based in Washington, D.C., and joined by Ibex Investors, CEIIF, the venture arm of CreditEase, and Gefen Capital. This takes its total capital raised since inception to $32.5 million. The investment will fuel Glassbox's hyper growth globally while accelerating product development efforts related to its automatic insight capabilities.
"While successfully serving some of the largest and most digitally mature enterprises in the world, the company now has the capital to scale up ahead of exponentially increasing demand from our existing and future customers," said Yaron Morgenstern, CEO at Glassbox. "We believe Updata's investment and expertise in growing leading enterprise software companies will enable us to become the unrivaled leader in digital customer management."
From the beginning, Glassbox architected its technology platform to capture all activity in real time, an approach that today allows for Digital Customer Management use cases and needs that others in the market struggle to address. For example, Glassbox's platform is a single collaborative solution for business and IT teams to optimize digital customer experiences across web, mobile web, and mobile app. This approach, coupled with an advanced application of machine learning in the digital analytics space, enables Glassbox to surface automatic insights, resulting in unmatched ROI for customers. Leading enterprises are leveraging the Glassbox platform to optimize web and mobile customer experiences, identify and fix IT performance issues, address risk management and compliance use cases, and guide real-time customer support in contact centers.
"Glassbox serves some of the world's largest and most demanding enterprises, which gives us confidence the platform is proven and there is tangible ROI for customers" said Carter Griffin, General Partner at Updata Partners. "Updata is excited to work alongside management to build on this existing momentum and support the company's investment in expanding both the go-to-market and product."
Braden Snyder, Vice President at Updata Partners added, "Digital channels for enterprises are becoming increasingly important, often a differentiator, and greater visibility into customer experience, conversion, and performance is top of mind. Glassbox's unique ability to capture 100% of the largest enterprises' digital activity in real-time across web, mobile, and mobile app is what gets us excited to partner with Glassbox and for the opportunity ahead."
As part of the transaction, Griffin and Snyder will join Glassbox's board of directors.
Company Name – Glassbox