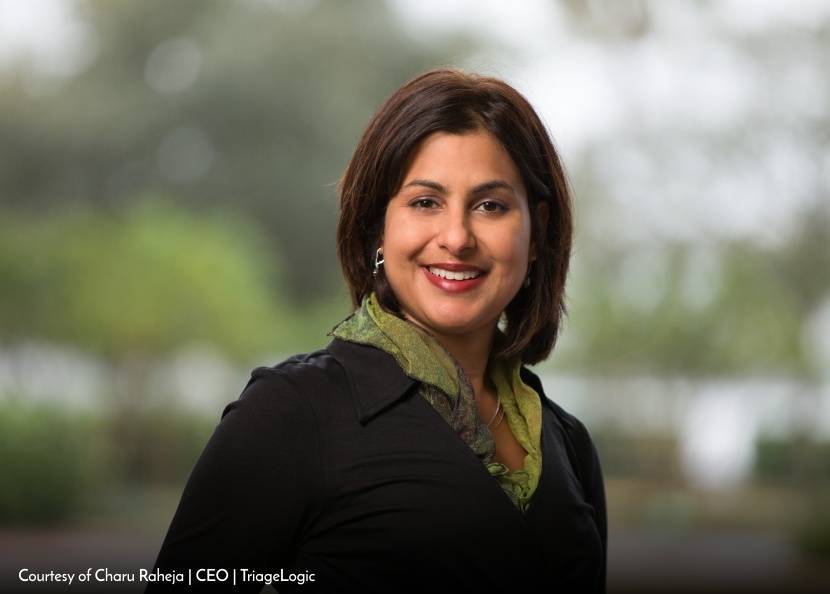 Charu Raheja: A Leader Committed to Her Vision
The healthcare world is changing at a rapid pace and this is creating an imperative emphasis on improving the quality of patient care and curbing down the general cost. Amidst all the challenges and complexities of the sector, bringing forward a transformation into the industry, no matter how small or big, can lead to tremendous opportunities for everyone.
With a vision of saving lives by making healthcare easy and affordable, Charu Raheja had started her journey as a leader and an entrepreneur to attain unmatched success. Beyond Exclamation sheds light on the journey of this inspiring businesswoman who has remained committed to her vision to move beyond excellence.
Emotional Setbacks that Sparked the Journey
During a visit to her family back in Brazil in 2009, Charu saw her father complain about a persistent stomach ache. But her father did not seek immediate care because he thought it to be of nothing serious. The following day, he died from a sudden heart attack. "While traumatic, I learned of many stories where people overlooked severe illness symptoms," she mentions.
A year later from that incident, Charu left her successful academic career, where she was getting tenure, to run a company named TriageLogic that would provide people with easy and affordable, 24/7 access to trained health providers to assess the seriousness of their symptoms. She wanted to start with nurses to evaluate the symptoms because nurses are traditionally the first line of care and people are comfortable speaking to nurses even when they don't think that they have a serious symptom.
Fast forward to 2014, Charu suffered from a hemorrhagic stroke while on vacation. It was the protocols used by the company's nurses that determined her need to go to the ER. "The stroke left me with a temporary devastating outcome: I lost memory, had trouble with language and walking, and suffered from migraines and depression. I also became introverted. Still, I persisted. I retrained and pushed myself to get back to baseline and developed new skills to help me grow," Charu recalls.
Professionally, Charu strengthened her commitment to ensure that everyone has access to a health professional and health resources. In 2017, she expanded the scope of her business to develop a mobile application in health and wellness. The new app allowed any company or organization to consolidate all their employee resources into one single mobile app with free 24/7 access to live health ambassadors embedded into the app. The company continues to innovate and develop new ways to save lives by making healthcare more affordable and accessible.
The success of Charu in overcoming adversities and using it to create products that would address those issues and create value for the society. Even though the company had minimum resources to start with, TriageLogic has remained 100% self-funded.
Thought-provoking Ideology
Charu believes it to be highly critical in life to listen to others, ask questions, and adapt to their needs. She mentions "We all view life from our own lenses. To be successful we have to see through the other person's lenses and speak their language based on what they are looking for. As a leader and colleague, for example, I look for what drives the people that work for us. What do they care about? Why are they passionate about well-being?"
Internally, she has created a culture to empower key managers by giving them independence and mentorship to grow into confident leaders. The core staff are incredibly loyal and feel that TriageLogic has been responsible for their professional growth while providing a work-life balance. A concrete example is two of the company's clinical call center managers. They were triage nurses, with relatively little management experience. Charu hired them as assistant managers and mentored them. In a short period of time, they were both promoted to become director of nursing and full nurse manager. With proper guidance and training, they have built an effective and efficient nursing unit where they are respected by their team of nurses.
Action and Adaptability Creates Opportunities
According to Charu, one of her key strengths is adaptability. She uses that to run her company as well as her personal life.
Like many working mothers, Charu has to combine both family and work sometimes. She explains "When my kids were younger, I would play and have dinner with them, and then I work after they went to bed. As they grew up, we also started to do our "homework" together on nights and weekends. Spending time together working together has given my kids a sense of responsibility and understanding that we all continue learning and growing no matter our age. And of course, like other working parents, I get as much help as I can from family, friends, and professionals who can help me run my life smoothly."
On the professional side, adaptability has also been an integral part of her company. She believes that one of the biggest shortcomings of the early century right now is the inability of companies to adapt to the shifting needs and demands of the people. In the process, both the parties are losing out.
She adds on to this by saying, "There are many nurses, for example, who would like to work but they cannot work the long shifts that are required in a medical setting. I considered the needs of working mothers when we first developed our company model. We allowed nurses to choose their shifts and work from home. We had to develop technology that would enable people to work from home. Most thought that this was impossible and expensive. Today, most medical nurse call centers are moving towards remote nursing. We lead in the area technology and remote company culture."
A New Era of Women Leaders
She believes businesswomen and leaders to be an inspiration for change and fresh ideas. She asserts "Women often bring a leadership style that is collaborative and adaptive. This is in part attributed to many women of today having to juggle multiple responsibilities, including expectations from society. Those who are able to draw from their experiences in their leadership are helping us learn new ideas such as managing people, encouraging creativity, and creating collaborative work environments."
As a businesswoman herself, Charu believes to have only scratched the surface of what she can do. Technology is changing the delivery of medicine and there are a lot of problems currently when it comes to access to healthcare. As an example, Charu envisions TriageLogic to be working with governments and non-for-profits to expand care, access, and knowledge to the most remote locations around the world.
She advises aspiring woman leaders by adding, "Find your passion and pursue it with persistence. Develop relationships and don't be afraid to ask for help. I think that we are in an exciting place for women today because women are starting to find their voice and ask for what they need. I see young women not being afraid to be in charge and speak their mind. We still have a long way to go concerning building good role models, senior mentors, and senior sponsors but we are building a momentum and it is time to ride it."
Riding the Shifting Waves of the Industry
There is a lot of growth and opportunity for companies like TriageLogic and especially those which have a disruptive technology like improving how people live. The 2016 Progress Report for the HERO Health and Well-being Best Practices Scorecard found a correlation between companies with "best practices" wellbeing programs and their stock market performance. Analysts studied the top 45 publicly traded companies and found that the stock of those 45 companies that invested in comprehensive, best practice wellness programs appreciated at 235% compared to 159% for the S&P 500.
Speaking about the shifting changes in the market, she exclaims "For example, I see a shift today in the insurance and wellness space with employers taking a more significant role in the health of their employees. I am observing a shift in the insurance market because so many employers are becoming self-insured today. It has been a very positive impact for us. The corporate environment and healthcare industry are both facing pressure to keep their patients and employees engaged, healthier, and happy, all the while decreasing productivity loss and healthcare costs. Our products focus on convenience, communication, health, and wellness which has created a tremendous opportunity for us. It is a combination of the right time, but also seeing a need and building innovative products to meet those needs."